iH8Sn0w recently tweeted that he has updated Sn0wBreeze to version 2.8 beta 8 to Jailbreak the iOS 5 beta GM firmware.
Like most versions of Sn0wBreeeze, Sn0wBreeze v2.8 beta 8 supports standalone baseband preservation to allow unlockers to update to the iOS 5 GM firmware. One new feature that iH8Sn0w has introduced in this beta version of Sn0wBreeze is instant IPSW detection. Additionally iH8Sn0w has mentioned UDID Developer Check Removal is no longer needed.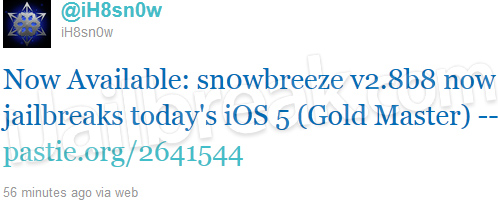 Sn0wBreeze v2.8 beta 8 supports the following iDevices running iOS 5 GM as a tethered jailbreak:
iPhone 3GS (Old bootrom)
iPhone 3GS (New bootrom)
iPhone 4 (GSM)
iPhone 4 (CDMA])
iPad 1G
iPod Touch 3G
iPod Touch 4
Note: The iPhone 3GS old bootrom is an untethered jailbreak.
Sn0wBreeze v2.8b8 Windows Download